Attractions, Biking, Hiking, Snowmobiling
Follow the route of a historic railway through beautiful forests and past scenic lakes. The Milwaukee Road railway once carried lumber through this region to market and later, carried the famed "Hiawatha" steam train, which hauled visitors to the Northwoods in the 1940s and 1950s. Today you can ride the Hiawatha Trail, a path of screened granite built directly on the old rail bed. The trail is a bike and pedestrian path in warmer months; in winter it becomes a snowmobile trail.
The Hiawatha starts at SARA Park on a scenic trail trestle, following the path of the abandoned Milwaukee Road railroad. The trail travels 6.6 miles north to Heafford Junction and the Lincoln/Oneida County border. There, it becomes the Bearskin State Park Trail, an 18-mile stretch that connects to Minocqua. It's built on the same 1880s railway corridor as the Hiawatha Trail. The railway once hauled white pine to market. Today, the trail treats riders to more Northwoods beauty, crossing bogs and forests and passing lakes and historic sites. It follows the path of Bearskin Creek. It's a good place for a family walk and leashed pets are allowed. Cyclists will need a state trail pass; self-registration stations are available on the trail.
No ATVs/UTVs are allowed on either Trail. Parking and restrooms are available in SARA Park.
See a Hiawatha trail map here.
See a Bearskin State trail map here.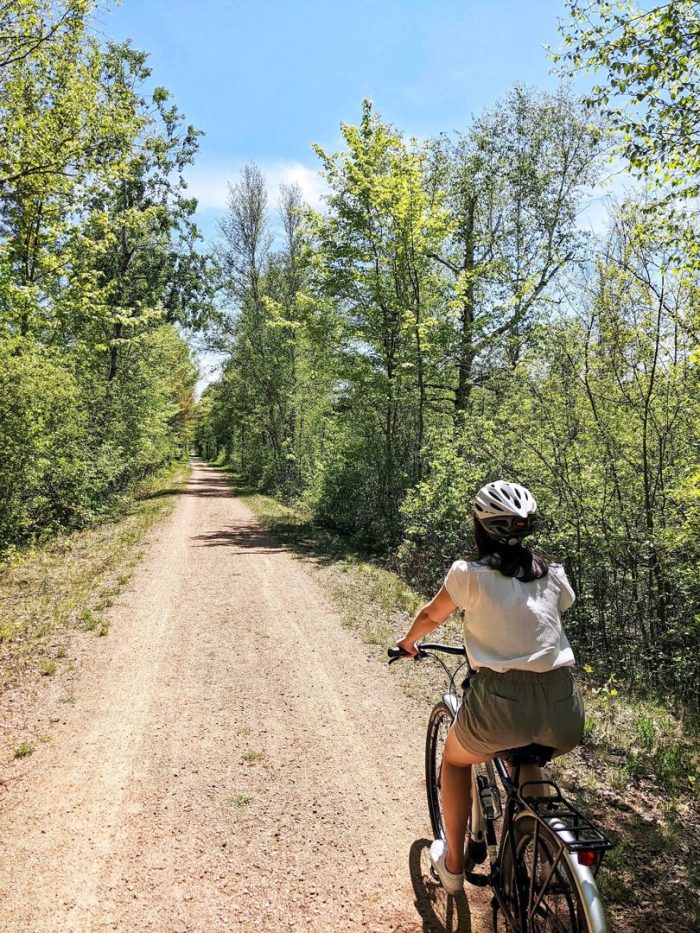 Address
SARA Park
Tomahawk, WI 54487
Get Directions
Latitude
45.475251
Longitude
-89.735972
Phone