Published: December 4, 2022
What makes us special!
Tomahawk is home to hundreds of miles of beautifully groomed snowmobile trails. Supported by three volunteer run snowmobile clubs, Tomahawk has the unique advantage of having nearly full business support and a robust funding system to keep our trails maintained. We also are accessible, with many hotels, resorts, bars and restaurants right on the trail system. Parking lots are big enough for trailers and it couldn't be easier every morning to get up, gear up and hit the trail.
In 2019 the Association of Wisconsin Snowmobile Clubs named the Tomahawk Region as a Snowmobile Friendly Community, and that designation was extended another three years in 2023!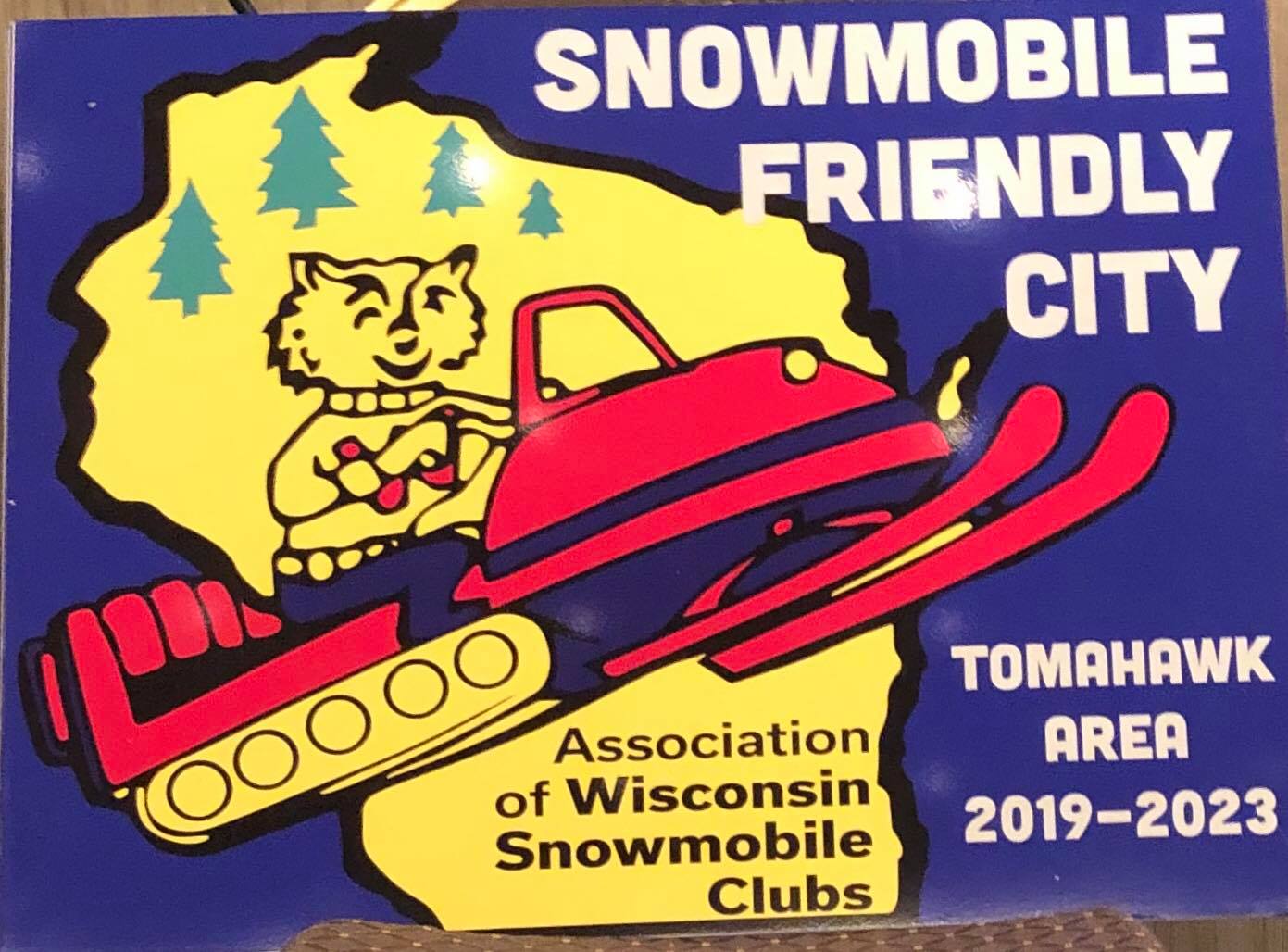 The designation comes after selection by a committee who looks at several criteria regarding how snowmobiling and snowmobilers are handled in a given region. Lori Rogney, from the Northwoods Passage Snowmobile Club led the efforts to gather information from all six clubs and community entities to complete the application and garner the designation.
AWSC choses communities based on their snowmobile policies, programs and amenities; snowmobile safety and education programs; snowmobile club/clubs, community encouragement and public safety in regards to snowmobiling.
Jesica Witte, then Executive Director of the Tomahawk Regional Chamber of Commerce, said the designation is a huge marketing tool for tourism in the area, "True snowmobile enthusiasts are always looking for the best trails and the best experience. Tomahawk and the surrounding area offers that experience. Our entire community is invested and understands the value that riders bring to our area. We know for a fact we offer accessibility unlike that of many other regions. Restaurants, lodging, gas, sled dealers and more can be easily reached on your snowmobile. The bonus in a community such as ours, when you arrive there you will be greeted with a smile and a handshake. We welcome visitors and locals with the same enthusiasm"
Tim Calhoun, President of the Northwoods Passage Snowmobile Club adds, "There is a long history of snowmobiling in our region and many generations have worked to bring the sport to this level. We need to acknowledge and recognize all those who came before us to grow these clubs and create our local trail system."
This was the first time in the 50 year history of AWSC that this designation has been offered. Nine Wisconsin communities were honored Saturday. Representing Tomahawk were officers from the Knight Owls, Northwoods Passage, Northern Trails, Northwoods Riders, Harshaw Wanderers and Hooligans snowmobile clubs.
"In putting this whole application together, it was great combining efforts with local experts. Gary Hilgendorf provided information about the technical and historical aspects of our trail system and Jesica Witte provided tourism and marketing expertise. We are fortunate to have six dedicated clubs, groomer drivers, businesses and volunteers. Those people make our snowmobile seasons successful year after year, " said Lori Rogney.
Our commitment to our snowmobile visitors doesn't end there. Tomahawk is home two of the largest Northwood's snowmobiler dealers, parts and repair businesses. Erv's Sales and Service and Tomahawk Sport Center are both located right in the heart of the city on North 4th Street. Erv's carries all of your Polaris sleds and gear, and just down the road you will find Tomahawk Sports Center who carries a full line of Ski-Doo snowmobiles including touring, hi-performance, muscle, and sport models.
Want to take your experience to the next level, consider joining one of our clubs or attending a snowmobiling fundraiser. Information on can be found on our club pages: Knight Owl Snowmobile Club, Northern Trail Unlimited, Northwoods Passage Snowmobile Club and events can be found on our calendar.